5 Reasons To Invest in Banksy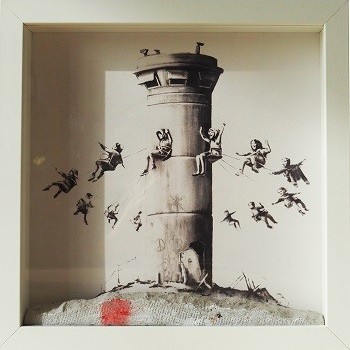 posted
5th
May
2021
Posted

2 years ago
By

Singulart
One of most popular contemporary street-artists, whose identity is still a secret, is known as Banksy. Other than knowing he's originally from Bristol, and that he was born in 1979, there isn't any clear information on his persona, which is surrounded by a halo of mystery. But we are certain that he is definitely one of the most provocative and controversial artists of our time. The Girl with a Balloon and the Flower Thrower are two of the most iconic artworks by Banksy. He is also globally known for his pranks in addition to his strong political and cultural spray-pieces.
While maintaining his anonymity, he has been constantly breaking records at major auction houses for a few years. Most recently, Christie's sold his artwork Game Changer featuring a child playing with a superhero nurse doll for £16.7M.

Let's explore 5 reasons to invest in Banksy.
1. His World-Wide Fame
Who hasn't heard of Banksy?

Since the early 90s he left traces of his art all around the globe, from London undergrounds to Palestine segregation walls. Banksy was also named alongside Barack Obama and Steve Jobs as one of Time Magazine's 100 most influential people in 2010. Obviously, when he was asked for a picture for the feature, he sent an image of himself with a paper bag over his head which became iconic. Typical of his figure!

2. Strong Messages and Good Actions

Everyone knows him because his art and his pranks criticize sensitive political and cultural aspects of contemporary society such as war, capitalism, and consumerism.

One of the strongest iconic examples is the piece called Can't beat that feeling, which reproduces a part of a photograph representing a girl (Kim Phuc) who runs away terrified while napalm burns her skin. In Banksy's work, Mickey Mouse and Ronald McDonald are holding her hands, symbolizing - among other things - the way America is oblivious to foreign policies and how a population can be pacified by a purposefully designed culture of entertainment.

In other words - Banksy has the strong power to communicate awareness on critical and important matters through his art, so he has inherently become an authoritative witness of our times.

Moreover, he is also known for his philanthropic actions: the proceeds of the last big sale, Game Changer, were donated to the Southampton General Hospital in the UK.
3. His Works Are Part of Permanent Museum Collections

In addition to finding Banksy's artworks on walls around the world, his pieces are also exhibited in renowned museums. In particular, the Modern Contemporary Museum in Amsterdam offers a wide range of his works including Girl with a Balloon, Laugh Now, Love is in the Air, and a huge piece (2,5m x 3.5m) called Beanfield showing a humorous nudge towards the police brutality at the Battle of Beanfield in 1985. The Bristol Museum also includes a large variety of his most iconic pieces, such as the much popular Devolved Parliament (sold at Sotheby's for £10M in 2019). This demonstrates that his work is well established in contemporary art.

4. Outstanding Records at Auction

Banksy's artworks are increasingly being sold at auctions causing a huge hype around them. Each time one of his pieces is on sale at an auction, either live or online, there is a clear high competition in bidding which leads to prices such as £16.7M through the sale of Game Changer. There is an outstanding rise in the evaluation of his artworks, and there is no doubt his art will continue breaking records and will gain more and more value in time.

5. His Works were Exhibited at the Louvre and MoMa!
It's not fake news! Banksy's Street Art was also briefly exhibited at the Louvre in Paris, at the British Museum, at the Venice Biennale, at the MoMa in New York, at the Metropolitan Museum of Art, at the Brooklyn Museum and at the American Museum of Natural History!

He infiltrated himself in these museums and at the Biennial to hang his artworks autonomously. Needless to say, each artwork carried a deep specific meaning to where he placed them. For instance, in October 2004 he hung his own version of the Mona Lisa with a huge smiley covering her face in the Louvre.

These spontaneous events, too, increment Banksy's popularity and enhance the economic value of his art.

Banksy is far from leaving us long without surprises and pranks. I'm sure we're all thrilled to discover what's next!